May 1994
---
PRESIDENT'S CORNER
The end of my year as your president is coming to a close. I want to take a moment to thank all of you for your support in rebuilding the membership of the Santa Clara Valley Repeater Society. As the numbers continue to grow, we can look forward to becoming a more active club.... active in club activities, projects and our local community (communications for bike tours or parades or whatever). This is where some of the real fun comes in (being able to use your amateur radio skills to help others).
I also want to thank Ben (KD6EWZ - our V.P.) for providing us with very interesting speakers. Owen (KB6MER) and Rich (KE6CTE), thanks for keeping the Voice of `76 news letter alive. And Bill (WA2IBM), thanks for keeping bailing wire and chewing gum ready for our trips to the hill..... we must keep those repeaters on the air....... right...!
Having good speakers and publishing the news letters is very key in bring folks to the meetings. This in turn leads towards their joining the club. I will not be running for the president slot during our June election, but I will be around to help keep the growth moving upwards. It is time for others to take the lead....... so, why don't YOU.... Come to the June meeting and lets us place your name on the ballot.
73, Larry - KC6VRK
HARMONICS FROM THE EDITOR'S DESK
Well its May and we still have not had any volunteers come forth to fill our pages with their words of wisdom, or bits of news.... Please come forth, "no news" is not good news....
In this issue you will find the complete ARRL Pacific Division Update for May and another article from my March 1938 Radio-Craft "Jubilee Souvenir Number." The article is entitled "Some Old-Time Radio Stations" and focuses on the birth of wireless communications, especially ship - to - shore. Keep in mind that when the article makes reference to current times, they are speaking of 1938 (Hi Hi).
Newsline
NewsLine needs our help! For those of you who are new to our group, we retransmit NewsLine on Monday nights at 9:30p.m. after our weekly NET, which starts at 9:00p.m. Bill Walters (WA2IBM) has been bringing up NewsLine for us for, I don't know how many years (I mean that -- I don't know?) -- Thanks Bill for your time and efforts, we all appreciate, and look forward to, NewsLine! Information is provided on the following pages, please check it out.
Elections
As our fearless leader has stated, its that time of the year. Please take the time to fill out the inclosed Proxy Ballet and mail it in. If you would like, we will be accepting you nominations by phone at the clubs phone number: 408-24S-CVRS (408-247-2877). If you decide to call in you nomination, please identify yourself by giving your name and CALL LETTERS, followed by your nomination (please identify person by their name and CALL LETTERS).
73's -- Thanks and enjoy -- Rich KE6CTE :-)
SILENT KEY
Walters, William E. (Bill)
On Friday, March 18, 1994, at St. Mary's Hospital in San Francisco. Survived by wife of nearly 50 years, Joyce Walters of San Jose; sons, Bill and Charles of San Jose; son, John of San Francisco. Grandfather of two. Native of Port Royal, PA. Age 76.
Retiring in 1975 as Product Safety Engineer in San Jose after 34 years of service with IBM Corporation, Bill was active in Amateur Radio as W6MKE. He was a member of the Santa Clara County Amateur Radio Association, Santa Clara Valley Repeater Society, IBM Amateur Radio Club, life member of the American Radio Relay League, and member of Project OSCAR.
His remains have been donated to the Stanford University Medical School. A private memorial service was help.
1994 DUES
Your 1993 membership expired at midnight, February 28, 1994. By the way, why not renew or join ARRL at the same time. Checkout details under ARRL MEMBERSHIP and the PRESIDENT'S MESSAGE.
NEWSLINE NEEDS OUR HELP
The weekly NewsLine service that many of us hear during the week, and which provides us with timely news of the Amateur Radio world, needs your financial support. It takes about $850 a month to support their service, and their piggy bank is getting empty. At this point they will only be able to operate through the end of April.
If you would like to help support them, you can send a donation to:
NewsLine Support Fund c/o Dr. Norm Chalfin, K6PGX P.O. Box 463 Pasadena, CA 91102
SANTA CLARA COUNTY ARES/RACES and WB6OQS
Santa Clara County ARES/RACES has been asked by local public safety agencies to provide auxiliary communications support for the World Cup Soccer games and the Wildland-94 fire exercise which take place in late June and early July. To insure adequate staffing, RACES mutual aid requests have been sent to Alameda, San Mateo and Santa Cruz counties.
The Santa Clara County Sheriff's Office and Stanford Department of Public Safety have asked for twenty-five spotters for each of the six World Cup Soccer games. These spotters will be in outlying positions on the Stanford campus and in the surrounding cities to report on changes in conditions. Spotters will serve an approximately six-hour shift to allow observation before and after the games which have a start time of 1230. Spotters will be "undercover" in their own vehicles and need to have at least two-meter handheld radios with CTCSS encode, running five watts from automotive power with outside antennas.
The games are on Monday, June 20th; Friday, June 24th; Sunday, June 26th; Tuesday, June 28th; Monday, July 4th; and Sunday, July 10th.
The Wildland-94 fire exercise is scheduled for Saturday and Sunday, June 25th and 26th, in south Santa Clara County. It will consist of a live burn on UTC property and a second exercise yet to be determined. There are both VIP and RACES positions to be filled although the VIP positions are being recruited by the CDF Santa Clara Ranger Unit against a resource order from Santa Clara County OES. These positions will be all day shifts from about 0800 to 1700.
Plans For Our Repeater
The WB6OQS repeater, which is the primary ARES/RACES Command-1 repeater for inter-EOC voice traffic, is not planned to be used during World Cup Soccer games unless there is a general RACES activation. The spotter net will operate on W6ASH/R and, on July 4th, on W6APZ/R. WB6OQS/R may be used as the event command net repeater for Wildland-94 on June 25th and 26th depending upon its coverage of the UTC area where the live burn will be conducted. A coverage study must yet be conducted and the WB6OQS/R operators will be advised of the result of that study.
Volunteering
If you are interested in volunteering for either or both events, contact your home city ARES/RACES Emergency Coordinator/Radio Officer.
George Washburn, WA6YYM District Emergency Coordinator Chief Radio Officer Santa Clara County
ARRL PACIFIC DIVISION UPDATE MAY 1994
Last Chance to Help Save the 13 cm. Band from NTIA's Plan
On April 7, at a public Q&A meeting, NTIA made it very clear that their overwhelming concern was to free up 50 MHz of the Federal Government primary spectrum allocation immediately and to minimize the conversion costs involved for the Federal Government, regardless of costs or problems caused to non-Federal Government entities. In their opinion, all other problems are to be resolved by FCC. These problems include sharing agreements with all other services, interference caused by the proposed reallocation to all parties, costs already spent by non-Federal Government services, to name only a few of the problems. With considerable effort, ARRL staff pried this information from NTIA at the meeting. NTIA's view appears to be "that unless you can prove us wrong, we have done our job based on OUR interpretation of the law passed in 1993". ARRL has several actions underway to try to turn this situation around, but ALL depend on your documentation of current 2.3 GHz. activity and plans. ARRL needs hard documentation of current activity by ATV and any other operations at 2.3 GHz. There are a list of questions as a guideline for documentation and a four page NTIA report available from me. Just ask! The NTIA deadline is May 11. Write your comments to Mr. Norbert Schroeder, Program Manager, Spectrum Openness, NTIA, Room 4092, U.S. Dept. of Commerce, 14th & Constitution Ave. N.W., Washington, DC 20230. FAX: (202) 482-4396. Please send a copy to Steve Mansfield, Legislative Affairs Mgr. in ARRL HQ. Do it today!
Vanity "Preferred" Callsigns - Latest News
The ARRL Executive Committee adopted the recommendations of the AdHoc Committee of which I was one member. The basic outline for the Comments due to the FCC by the April 21 deadline, are as follows: - All hams should be eligible to obtain preferred calls within the call sign blocks based on current license class (there are some exceptions). For example, this provision allows Extras to obtain 1X2 calls, but not Novices. - A phase-in plan starts with those who have lost calls through the years for whatever reason and regardless of license class. - Next would be Extra class licensees, then Advanced, and then open to all. Calls will be assigned based on availability within the current call areas. - A one time fee should be charged for the preferred callsign rather than the $7 per year enacted into law by Congress. - Club call signs would also be issued. Remember, this is a brief summary (there are many details) of what the ARRL is developing for its Comments. What the FCC will actually do is still to be seen. The text of this docket starts on page 84 in February QST. Timing is unclear but could be as early as late 1994.
Katashi Nose, KH6IJ, Silent Key
It is with great sadness I report the passing of Katashi Nose, KH6IJ, on April 7. In my opinion and that of many others he was the "father" of Amateur Radio in the Hawaiian Islands. Others have called him a "giant" in Amateur Radio. He was currently an Assistant Director and had served in many capacities over the years. Many of us will remember his cheerful voice and wonderful CW fist. 73 and Aloha!
New Pacific Division Appointments
It is my pleasure to announce two new Pacific Division staff appointments: Eric Johnson, AH6MQ, of Honolulu, Hawaii, has been appointed Assistant Director for Oahu, and W. Thom Skeer, KD6IQJ, has been appointed Volunteer Counsel in the southern part of the San Joaquin Valley Section. Eric joins Pat Corrigan, KH6DD and Lee Wical, KH6BZF, as Assistant Directors on Oahu. Eric will focus on working with the clubs on Oahu while Pat and Lee will focus on specially targeted activities applicable to all the Islands. Thom joins Bob Foster, WY7M, of Stockton, and Joseph L. Horswill, KG6YA, of Tulare, as Volunteer Counsels in SJV. Thanks, Eric and Thom, for agreeing to serve!
Congressional Legislative Report
Late information on HJR 199 shows 220 co-sponsors in the House, a majority of members. Lynn Woolsey of Marin County's 6th District is the latest co- sponsor. With a majority we can now plan to bring up the resolution for consideration. The identical resolution in the Senate (SJR 90) now has 42 co- sponsors. HR 2623 (Amateur Radio Volunteer Protection Act) has 70 co- sponsors in the House - not yet introduced in the Senate. Keep writing letters to your congressional delegation with copies to Steve Mansfield, Legislative Mgr. in ARRL HQ so he can use them when visiting your congressional delegation in Washington.
Antenna Ordinances
Rusty Epps, W6OAT, Assistant Director and Volunteer Counsel, continues to lead a Pacific Division-wide effort to develop a database of antenna ordinances and related materials for the Pacific Division. Rusty reports that data is coming in from all parts of the Division -- thanks! This effort is part of a national overall program to index and catalog cases and related materials with the goal to help develop more workable antenna ordinances. Please be actively involved in this program by visiting and/or calling your town and/or county Planning Commission. We need the help of all hams in the Pacific Division on this project. Also, please let Rusty know if there is a proposal for an antenna ordinance in your town and, if so, the contents of the proposal. Rusty would also like to know if your town does NOT have an ordinance. Rusty needs everything related to this entire field! All the information will, of course, be available to anyone in the ham community who needs it. Send all the material to Charles K. (Rusty) Epps, W6OAT, 651 Handley Trail, Redwood City, CA 94062.
New FCC-ARRL Am-Aux Agreement
The new agreement centralizes submission of interference report by Amateur Auxiliary members. A new manual is at the printers and should be available in a few weeks. More next time.
ARRL Letter Available - Free to Affiliated Clubs
For details for a one year free subscription, write to:
Jim Cain, K1TN, ARRL Letter Editor


ARRL HQ


225 Main St.


Newington CT 06111-1494.



Scholarships and Awards
There are many scholarships covering a wide range of situations available to licensed Amateurs. The ARRL Foundation, The Dayton Amateur Radio Association, The Foundation for Amateur Radio, to name only a few, will be announcing their dates for applications for their 1994 scholarships. Watch QST and other amateur radio publications for details. The Pacific Division and ARRL each give many awards for outstanding service. Included are awards to clubs (by sizes), Ham of the Year, Volunteer of the Year, Ham Recruiter of the Year, and Certificates of Merit. These awards will be made at Pacificon94. Please give serious thought to nominations. Drop me a note for the details.
Brad Wyatt, K6WR


Director, Pacific Division, ARRL


18400 Overlook Rd. #5


Los Gatos CA 95030-5850


(408) 395-2501


Packet: K6WR@N0ARY.#NOCAL.CA
FOREIGN LANGUAGE
To all Filipino amateur Stations you are welcome to use the WB6OQS repeater.
For membership info - call Jon Ranoa, KD6FJL at 408-735-9130 or call him on the frequency at 444.600(+). -- ATIN PO ITO --
MONDAY NIGHT NETS
Check in and join in on the fun. This is a good exercise to see if your equipment is working and to see if you can reach the repeater from wherever your are at 21:00 on Monday.
So, join us at 9pm each Monday on 146.76 or 224.26. Stay tuned after the net, at 9:30pm for the Amateur Radio News-Line.
NET CONTROL OPERATORS WANTED
Members of WB6OQS are all eligible to be net control operators. No special skills or abilities are required. If you hold a valid Technician or better Amateur Radio License and would like to be a NET control operator, contact Ben, KD6EWZ at 408-972-1978 or KD6EWZ@KB6MER on Packet.
WHY RADIO AMATEURS ARE CALLED "HAMS"
From Florida Skip Magazine - 1959
The word "HAM" as applied to 1908 was the station call of the first amateur wireless stations operated by some amateurs of the Harvard Radio Club. They were ALBERT S. HYMAN, BOB ALMY, and POOGIE MURRAY. At first they called their station HYMAN- ALMY-MURRAY. Tapping out such a long name in code soon became tiresome and called for a revision. They changed it to HY-AL-MU using the first two letters of each of their names.
Early in 1909 some confusion resulted between signals from amateur wireless station HYALMU and a Mexican ship named "HYALMO". They then decided to use only the first letter of each name and the station call became HAM.
In the early pioneer days of unregulated radio, amateur operators picked their own frequency and call-letters. Then, as now, some amateurs had better signals than commercial stations. The resulting interference came to the attention of congressional committees in Washington and Congress gave much time to proposed legislation designed to critically limit amateur radio activity.
In 1911, Albert Hyman chose the controversial Wireless Regulation Bill as the topic for his thesis at Harvard. His instructor insisted that a copy be sent to Senator David I. Walsh, a member of one of the committees hearing the bill. The Senator was so impressed with the thesis that he asked Hyman to appear before the committee. Albert Hyman took the stand and described how the little station was built and almost cried when he told the crowded committee room that if the bill went through they would have to close down the station because they could not afford the license fees and all the other requirements which the bill imposed on amateur stations.
Congressional debate began on the Wireless Regulation Bill and little station HAM became the symbol for all the little amateur stations in the country crying to be saved from the menace and greed of the big commercial stations who didn't want them around. The bill finally got to the floor of Congress and every speaker talked about the "...poor little station HAM".
That's how it all started. You will find the whole story in the Congressional Record. Nation-wide publicity associated station HAM with amateur radio operators. From that day to this, and probably till the end of time in radio: An amateur is a HAM.
VOICE OF `76' ARTICLES NEEDED
We are always looking for articles to place in the "Voice of `76'" newsletter. Submissions are accepted in electronic form in several ways. All forms require an ASCII text file. Submissions can be delivered in the following ways:
E-Mail:
Internet: ke6cte@SVPAL.ORG Packet: KE6CTE@KB6MER
Floppy:
PC Format Floppy disk (3.5" or 5.25") Sun tar/bar/cpio format 3.5" Floppy, compressed OK.
Fax:
If you do not have access to a computer, you can submit typed pages by faxing them (preferably in FINE mode) to (408)-238-9362. If the FAX at that number doesn't answer or has problems, call (408)-238-9352 to make arrangements.
Other:
If you do not have a FAX machine or a computer, documents may be submitted by hand, either typed or legibly printed, by mailing to: Richard Burguillos 3333 Hillview Ave. Palo Alto, CA 94304
When making electronic submissions, it is helpful if you adhere to the following typographical conventions: (These are helpful, but not required) When creating columns, please use one TAB character (0x09) to separate each column.
Use a single return between lines and a double return between paragraphs. Although these conventions may make the document appear difficult to read, they make it easier to import into the publishing package which will automatically format them correctly when they are tagged correctly.
Thanks and 73's, de KE6CTE and KB6MER
SOME OLD-TIME RADIO STATIONS
Reprinted from "RADIO-CRAFT for MARCH, 1938"
Before wireless came about, when a ship left land it was never heard from again until the day it returned to the same port, unless some other ship brought in news or tidings, or perhaps even some mail exchanged in mid-ocean. When wireless came along that picture was changed, since its first stations were intended to replace the telegraph and transatlantic cable in the art of communication.
The first commercial wireless station was, naturally, Marconi's, and was erected in November, 1897, at Alum Bay on the Isle of Wight, England. The station employed an antenna consisting of wires stretched between masts that were 120 feet high, and many messages were sent from this station to an experimental station located on a steamer. These test were designed to show the feasibility of ship-to-shore communication, and the first record of paid-for message by wireless was made in June, 1898, when Lord Kelvin came to this station and sent a message, for which he paid, to another station at Bournemouth, approximately 14 miles away. From then on ship and shore stations were installed rapidly, and we find Marconi's company interested in spanning the Atlantic. With this in mind, he had already installed (in 1901) a powerful station at Poldhu, Cornwall, England. It employed for an antenna system 20 masts, each 200 feet tall, arranged in a circle 200 feet in diameter. After it had already proven that it could reach ships far out at sea, Marconi then traveled to St. Johns, Newfoundland, and after some experimental work was able to hear the letter "S" (3 dots: "...") transmitted by Poldhu. Other difficulties arose, and it wasn't until 1902 that Marconi was able to return to the North American continent to erect hi station for transatlantic communication. When he did, he selected Glace Bay, Cape Breton, Nova Scotia, and on December the 17th of that year the Governor-General of Canada and the King of England exchanged greetings through the facilities of these two stations.
These were the forerunners of commercial ship and shore stations to which wireless operators were destined to listen eagerly for communications, press, instructions, weather reports, etc. In the United States, between 1904 and 1908, the United Fruit Company found it advisable to erect a number of shore stations so that its fleet of steamers traveling to southern climes could be contacted at will. These early United Fruit stations were located at Limon, Costa Rica and Bocas del Toro, Panama. Before 1908 this company had added more shore stations located at Nicaragua, Cuba, Guatemala, Louisiana, and Swan Island in the Caribbean Sea. In 1904, de Forest installed 5 large Navy shore stations at the following locations: Pensacola, Key West, Guantanamo, Colon (Canal Zone) and San Juan (Porto Rico).
Arlington (NAA) didn't go on the air until February, 1913, although the installation was started in 1909. Its first signals were made by a 100 kw. spark transmitter of Fessenden design, but this was replaced shortly afterwards by a 30 kw. "arc" transmitter which was much more efficient. >From then on, arc transmitters were preferred by the Navy, and Arlington results were the criterion. The Eiffel Tower station (old "FL"), in Paris, began its transmissions in the latter part of 1912, and Time Signals from this station were transmitted regularly.
LONG-WAVE STATIONS
An interesting point, with which only real old-timers would be familiar, is that many of these aforementioned stations operated on extremely low frequencies of very high wave-lengths, although the best results are obtained today in the opposite direction, i.e., ultra-high frequencies or low wave-lengths.
Arlington, or NAA as the veteran wireless operator would refer to this station, for instance, operated on a wavelength of 6,000 meters. Eiffel Tower, or FL, operated on a wavelength of 10,000 meters; Nauen (Germany), or POZ, operated on 12,600 meters, and NSS (Annapolis, Md.) operated on a wavelength of 16,900 meters or approximately 18 kilocycles -- a frequency now considered on the fringe of the audio spectrum. No small wonder that these stations had to use tremendous power and extremely large and lengthy antenna systems. The tuning coils on the receivers, for receiving these wavelengths, were also very large -- sometimes resembling huge Tesla induction coils. In general, though, commercial wireless seemed to favor the 600- to 1,000- meter range.
The first attempt at legislation of commercial wireless was made at the International Radiotelegraphic Convention, held at Berlin in 1906, which provided that the wavelengths of 300 and 600 meters be assigned for commercial wireless work. The wavelength of 1,600 meters (or band from 600 to 1,600 meters) was reserved for governmental coast stations. However, these provisions did not at that time apply to wireless in the United States, since this country sent no representative to the convention. The U.S. had no real laws governing wireless until The Wireless Law of 1910 was signed by President Taft, and which only became effective on July 1st, 1911. The tenets of the International Convention were not ratified by the Senate until January 22nd, 1913.
From this period on, and until the United States entered the World War, commercial wireless grew by leaps and bounds, and when finally this country did enter the War, the shore stations that were established by this time proved to be an invaluable asset. When the War started there were 35 Navy coastal stations (privately-owned commercial stations were much more numerous), and 45 Marconi stations for ship-to-shore service. These the U.S. Navy took over, and in 1918 purchased them outright. Their calls were heard by innumerable wireless operators of those days, and amateurs as well, since listening - in to commercial news, press, etc. -- especially, the NAA press reports after the 9:55-10:00 P.M. time signals -- was a favorite pastime that provided good practice to attain "copying speed."
Today, the number of shore stations in the United States is difficult to estimate, since wireless (radio) is no longer confined to ship service. Aviation, Police, Facsimile, Press, Communication (radiograms), Wireless Telephone, Broadcast, Military (Army and Navy), Experimental (television, etc.), all tend to make the number run into many thousands.
Meanwhile the ghost of old stations still linger in the background. Arlington still sends out Time Signals; Nauen, Germany, still transmits on the upper wavelengths where now, if one were to listen - in, and almost graveyard silence prevails in contrast to the old-time busy chatter. The Eiffel Tower is somewhat more modern, having included facilities for radiophone and, we understand, television transmission, but the call letters are the same... probably to serve as a reminder of its past glories.
Cartoons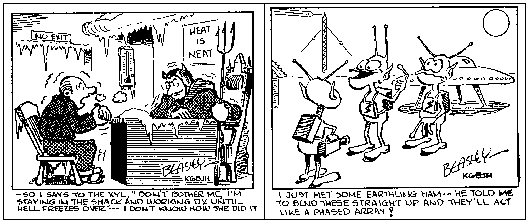 Cartoons reprinted from QST without permission.
---
Last Modified 01/01/2000 scvrs_www@scvrs.org